Main content starts here, tab to start navigating
About
Everything at Crushcakes Café is made on site, from scratch with love! We always use the freshest and finest ingredients including Callebaut Chocolate, real vanilla beans, fresh fruits and veggies. We prepare breakfast and lunch every day, 7 days a week and offer catering, delivery and wedding service. We hope you will come visit us soon… you will always remember your first crush!
Shannon Gaston, Founder
Shannon Gaston is the original owner and operator of Crushcakes Cafes. After many years in the corporate world of HR and Law, Shannon went on a yoga retreat to Sonoma in 2007. Slowing down for the first time in years, Shannon was inspired and brought back to her restaurant roots during deep meditation.
Shannon's father owned and operated restaurants in LA and Santa Barbara that she loved spending time in as a kid. When Shannon was in her twenties, she owned a little NY deli that served big tasty sandwiches and played Seinfeld on loop all day! After selling the deli and going back to school to get an MBA and attend law school, Shannon thought she had forever escaped the restaurant business. Then she got pulled back in that Spring day of 2007. The entire vision of Crushcakes was there, ready to come to life, all Shannon had to do was act. By February 2008, Shannon quit her job, quit law school, and used up all her savings to open Crushcakes & Café Santa Barbara.
Now Shannon owns 3 locations of Crushcakes; Downtown SB, Carpinteria and Goleta. We still serve the original menu filled with delicious and scratchmade breakfast and lunch items including the Hangover Helper, Red Velvet Pancakes, The Farmers Market Salad, plus many more new and exciting things! Still all made from scratch, every morning in our own kitchens!
And, of course, THE CUPCAKES! Shannon was on the Food Network's Cupcakes Wars a few times so everyone always wants the cupcakes! We make 15 different flavors of cupcakes every day including one seasonal special, a vegan and a gluten free special. We also offer a variety of custom cakes from small smash cakes to grand 5-tiered cakes!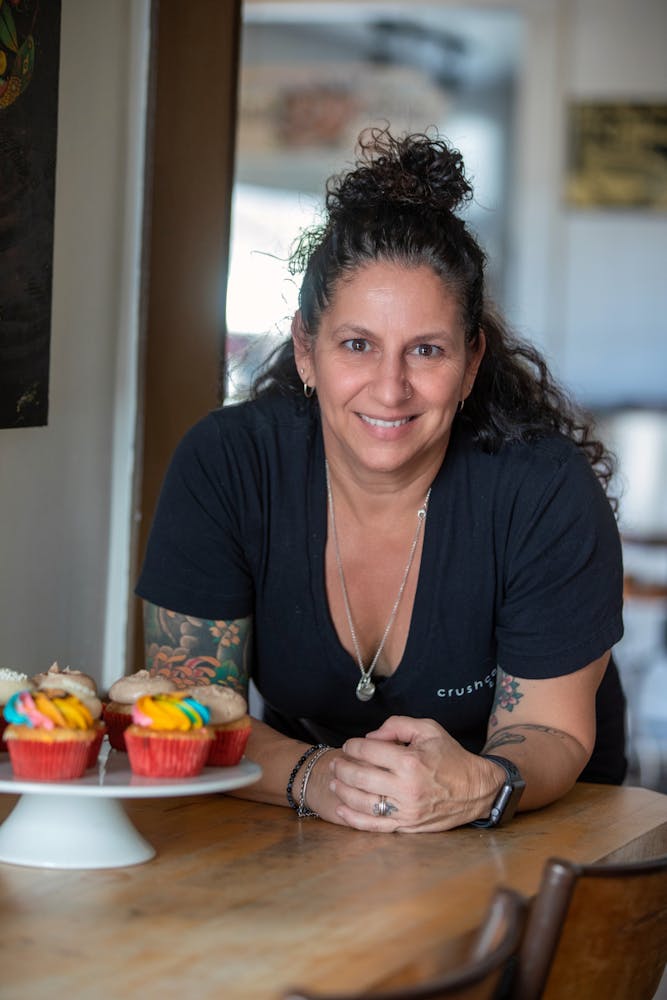 Thank you so much and we look forward to seeing you soon!!!
peace.love.crushcakes